E2M took the decision to invest in this sector and has started by creating a new style of Contact Center facility capable of responding to today's fast changing business environment without compromising on quality. This contact center was set to meet E2M own growing business and needs, with the possibility of outsourcing other potential customers whose aim is high Quality business and customer satisfaction.

We went operational on the 28th of may 2009 with an inbound campaign. Our current customers are Mobision, Orange Business Service thorugh our partner Enjoy Dialing, AlSumaria TV, E2M VAS services.

The proper function of the professional Contact Center in today's business environment can mean the difference between just being in business and being successful in the business.

Powered by Vocalcom, our strategic call center partner, along with the correct equipment, latest technologies, most efficient network and effectively trained staff, we will ensure that our customer's business will be successful well into the future, always through a Quality Customer Service assistance.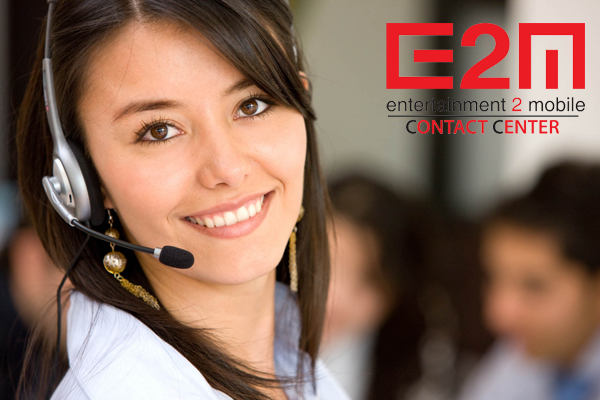 Mission
Our Mission is to contribute positively in E2M and the CET group as revenue Contact Center through Quality Customer Service Telephony strategy in answering direct/indirect customer inquiries and ensuring the complete customer satisfaction by engaging us as a reliable and trusted partner assisting in the achievement of client's goals in a competitive manner.

Vision
We want to become the Corporate of Choice in Lebanon and Beyond through sustaining a Leader position in the Contact Center Business, while preserving all stakeholders best interest.

Contact Center Overview
Our Contact Center will be a centralized office used for the purpose of receiving and transmitting a large volume of requests by telephone and emails 24h, 7/7 all year round. It is operated to administer incoming product support or information inquiries from consumers.

We will also offer outgoing calls for telemarketing, clientele, product services, handling of emails, faxes & live chat.




Our Contact Center is operating under the rules set by the Lebanese Ministry of Telecommunications and the Telecommunication Regulatory Authority fully described in the "Regulatory Framework for Establishing Call Centers in Lebanon" and "Call Centers Conditions & Application Procedures" requirements documents.

Our added value is a dedicated and professional management team who has the relevant skills and industry expertise to make the business a complete success.

This management team will be training, assisting, supporting and motivating the CSRs to provide the best Quality Customer service, in order to be the best interactive partner between our customers – the outsourced companies – and their own clientele.